Five communities are participating in an 18-month program of professional development and new project implementation and assessment, led by a team of JTS faculty and staff. This collaboration is developing new models of learning and will be documented in order to identify broader conclusions about the application of experiential learning in Jewish education.
In January, we launched our work with the five ReFrame pilot communities at a four-day retreat in Atlanta held concurrently with the Jewish Educators Assembly annual conference (where ReFrame staff also led the closing session). Each pilot community was represented by two professionals who will serve as their ReFrame Leadership Team throughout the program. In most cases the sites are represented by the congregation's director of education along with a second educator.
We will track and update each synagogue's progress as the program is carried out.
---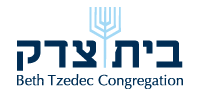 Beth Tzedec Congregation is a Conservative congregation in the heart of Toronto dedicated to being a "Community Destination for Jewish Living." Founded in 1955 as the merger of two leading synagogues, Beth Tzedec is today the largest synagogue community in Canada. The synagogue hosts more than 200 annual events that allow its congregants to grow spiritually, socially, culturally, religiously, and educationally.
With ReFrame, Educational Director Daniel Silverman hopes to explore and try out new ideas and methods by which to improve Beth Tzedec's Congregational School and Youth department.
Congregation Shaarey Zedek is an inclusive, egalitarian Conservative Jewish congregation and spiritual community in Southfield, Michigan. The seeds for the synagogue were planted in 1861, and in 1913, Shaarey Zedek became one of the founding congregations of the United Synagogue of America.
With ReFrame, Shaarey Zedek hopes to imbue their educators with the many varied tools and open approaches of experiential education. Rabbi Aaron Starr, Director of Education and Youth, looks forward to studying the most effective experiential education approaches, and learning how to better train educators to more fully integrate the skills of experiential education into their classroom.
IKAR is a non-denominational, progressive, egalitarian Jewish community in Los Angeles. Driven by a passionate belief in the relevance of the Jewish tradition and its power to infuse lives with meaning and purpose, IKAR was launched in 2004 by a handful of young, entrepreneurial Jews sharing a passion for meaningful and intentional Jewish engagement. Led by Rabbi Sharon Brous, one of IKAR's founders, and Newsweek/The Daily Beast's 2013 "Most Influential Rabbi in the United States," IKAR's mission is "to reclaim the essence (the ikar) of Judaism and to reimagine what it means to be Jewish in the world today."
With ReFrame, IKAR hopes to use new ideas and approaches to experiential education inspired by research and new products. Through this, they will raise accountability in their current program and ensure that they are constantly evaluating and reorganizing in order to have the most effective programs. Emily Kruskol, Co-Coordinator of Limudim 2.0 at IKAR, is thrilled at the prospect of bringing summer camp philosophies and ideas into year-round experiences.
Park Avenue Synagogue is a Conservative synagogue on the Upper East Side of Manhattan. Generally considered to be one of the largest and most influential synagogues in America, Park Avenue Synagogue was founded in 1882 and has a member base of approximately 1,500 families.
With ReFrame, Park Avenue Synagogue hopes to better serve its congregants while staying true to its educational philosophy. It aims to build on its already existent experiential programming happening at its Shabbat Experience program, retreats, and in the classroom setting.
Temple Israel Center is a traditional, fully egalitarian Conservative congregation located in White Plains, New York. Led by Rabbi Gordon Tucker, a former faculty member of JTSA, Temple Israel Center boasts a membership base of over eight hundred members.
With ReFrame, Temple Israel Center hopes to come up with a quality plan to reinvigorate tefilah with profundity and meaning. This include exploring different ways to engage learners in tefilah, be it through experimenting with different spaces and size groups to imparting an understanding of what is being recited in Hebrew. Nancy Parkes, Director of Congregational Learning, states that a major goal of theirs is to imbue recipients with flexibility and desire to explore different ways of expressing one's spirituality.